NEWS
EVENING FROM THE ROOF OF THE WORLD/JANUARY 2020
Our 43rd evening conference will take place on January 16, 2020 at 6:00 p.m., still
at 6 rue Visconti PARIS 6, on the theme :
THE QUESTIONS ASKED BY THE HIMALAYAN FILE
OF THE MUSÉE DU QUAI BRANLY - JACQUES CHIRAC
that has many surprises in store for us.
Free admission subject to availability
Reserved in priority for members of the association 2
CREATION OF AN A.R.C.H. SCHOLARSHIP
François Pannier expressed his desire to create a scholarship for young researchers within the framework of the A.R.C.H.. To this end, and while waiting for the realization of the project, a cheque was given to David C. Andolfatto to support him in his research.
The terms and conditions for the application and awarding of these A.R.C.H. scholarships will soon be specified on the association's website.
Museums and intangible heritage
During the international symposium "Museums and intangible heritage:
transmission, know-how and museum conservation" which took place on 8 and 9 November 2019 at the Doudou Museum (city of Mons) and the International Museum of Carnival and Mask in Binche, François Pannier spoke on the theme:
The Himalayan world in the twenty-first century. Mutations and deculturation.
The proceedings of the symposium will be published at a later date. 2
David Cornelius Andolfatto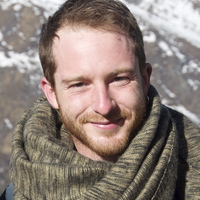 David Cornelius Andolfatto had given us the great pleasure of presenting us, on November 21, 2019, part of his research on
Religion and royalty in western Nepal from the 12th to the 16th century.
Archaeological approach to the modalities of power.
His brilliant intervention was filmed and can be viewed on our website
The defense of her thesis, entitled:
The Country of One Hundred and Twenty-five Thousand Mountains. Archaeological study of the Karnali basin (Nepal) between the 12th and 16th centuries (under the direction of Mrs Edith Parlier-Renault and Mrs Marie Lecomte-Tilouine)
The thesis from which his presentation was extracted will take place on Monday, December 23rd at the Musée du quai Branly-Jacques Chirac, at 9:30 am (classroom Nº2).
It will be followed by a drink at the Roof of the World gallery (6 rue Visconti, 6e arr.).
If you are interested in attending, please let us know. The number of places being limited, a confirmation will be sent to you as well as the access modalities related to the security instructions of the place.
THE MUSÉE BARBIER MUELLER CULTURAL FOUNDATION
On the occasion of the publication of the book Les Kouya de Côte d'Ivoire, un peuple forestier oublié,
Organizes on Tuesday, December 10, 2019 at 6:30 p.m.
a discussion on the dangers of deforestation in Côte d'Ivoire, Brazil
Exposition NORTH & EAST
Tischenko Gallery à la galerie Punchinello
du 26.11.19 au 07.12.2019
16, rue du Parc Royal
Paris 03